Welcome to the three-part Amigas in Wealth editorial series, in partnership with J.P. Morgan Wealth Management, where we cover different money topics with J.P. Morgan advisors and leaders that can help all of us build the generational wealth we have been manifesting for ourselves. By working to bridge the financial literacy gap that disproportionately affects the Latine community, Amigas In Wealth looks to help every amiga feel more confident in claiming their financial freedom.
In partnership with

When I hear the word finances, I feel this heavy sense of overwhelm over me like a wet blanket — one I've been learning to shake off. I know I'm not alone in this — many amigas have felt uncomfortable and overwhelmed when it comes to discussing their finances and facing the reality of their money habits before taking a financial leap towards a major goal. But as truth would tell us, a lot of it can stem from a scarcity mindset passed down to us and a lack of financial literacy. However, we're the generation of cycle breakers, taking the control of money back into our hands and claiming abundance that can lead to our generational wealth. "There is definitely a gap in a lot of households within our community in passing financial literacy to the next generation," shared Martina Jimenez Sperry, Market Director at J.P. Morgan Wealth Management.

Many of us are taking the leap to plan for life milestones, such as retiring, starting a business, buying a home or saving for children's future college costs, but where do we even start? Adding a basic money health check to the mix can feel like a daunting visit to the doctor's office that makes us come face-to-face with our unhealthy habits. But just like going to the doctor helps us with preventative care, going to a financial advisor can help better your money habits and create a roadmap for your next goal in life that can get you closer to building generational wealth.
INVESTMENT AND INSURANCE PRODUCTS ARE: • NOT FDIC INSURED • NOT INSURED BY ANY FEDERAL GOVERNMENT AGENCY • NOT A DEPOSIT OR OTHER OBLIGATION OF, OR GUARANTEED BY, JPMorgan Chase BANK, N.A. OR ANYOF ITS AFFILIATES • SUBJECT TO INVESTMENT RISKS, INCLUDING POSSIBLE LOSS OF THE PRINCIPAL AMOUNT INVESTED
Step 1: You need to do a basic wealth health check
We discussed the importance of a financial check-up with Martina from J.P. Morgan Wealth Management. She gave us some tips for creating a plan to help build wealth.
"Everyone's financial situation is different. If you're planning for retirement, to buy a house or any other goal, you should first do a financial health check," said Martina. "You should figure out where you currently stand before you get started."
Let's be honest – many of us have never spoken with a financial advisor to create a plan for our financial goals. In a #WeAllGrow Amigahood poll, we asked our community how many have consulted a financial advisor. 57% shared that they haven't for reasons of lack of capital to pay an advisor, lack of knowledge of what to expect from a meeting with one, not knowing what to ask, not knowing where to find one, or not knowing what to look for when finding one.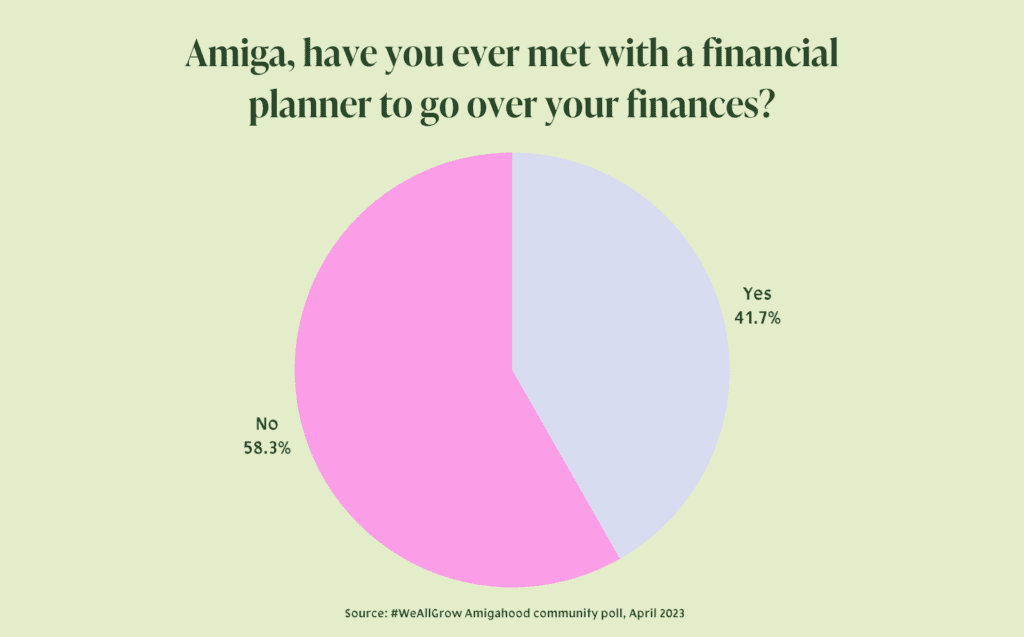 However, Martina showed us that finding an advisor can be like finding a therapist.
"If you're going to work with an advisor, you'll want somebody that understands you and your entire picture," said Martina. "When you're interviewing potential advisors, you want to find someone who you trust and feel comfortable discussing your finances with. Take the time to see who is the best fit for you right now."
And just as with a regular therapist, you want to work with someone who can foster a safe space for you, especially when finances can feel really intimidating. In short – someone who will tell you there is no such thing as a stupid question.
"If you're going to work with an advisor," shared Martina, "you want to make sure that they are someone who creates a safe space for you to ask questions. Your advisor should understand your situation today and where you're trying to go, so they can support you in planning towards your goals."
Step 2: But first, retirement
Being intimidated by finances can feel lonely, but many people feel the same. We also asked our Amigahood community what the next financial milestone they are planning for was, and 37% of the community voted "paying off my debt," followed by investing (24%), starting a business (23%), and buying a home (23%). However, many of us might not be thinking about our future retirement. Martina encourages people to think about investing for retirement along with their other financial goals.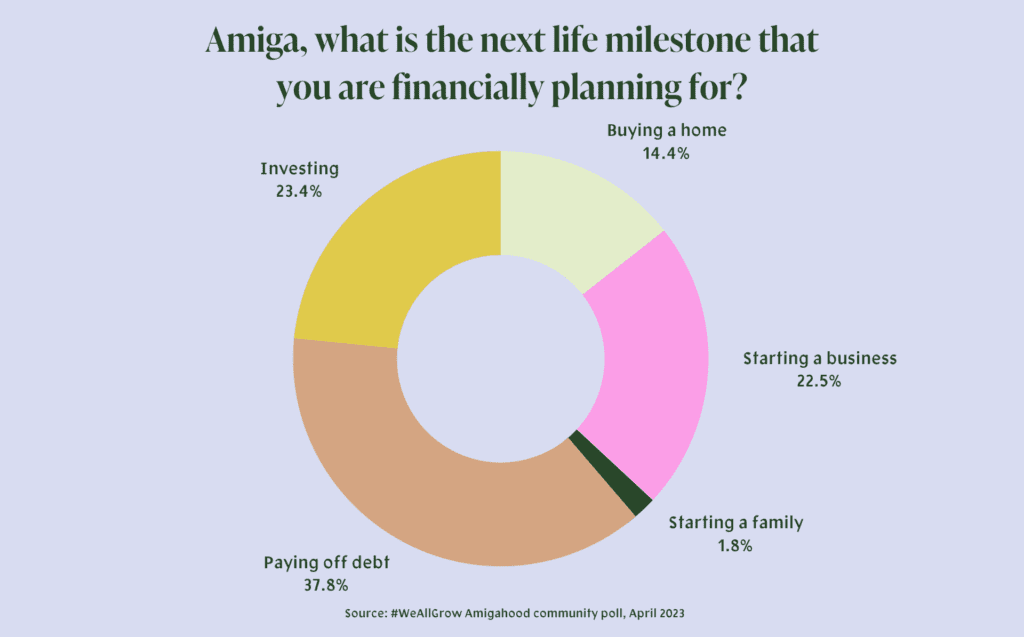 "Many people are not thinking about long-term goals since they can feel so far off," said Martina. "It's natural to want to focus more on goals that feel close. But planning for retirement should be a priority in your financial journey. The sooner you can get started, the better. Time in the market is important."
That means understanding the importance of planning and putting it into practice consistently. "Practice a thought process that is not 'one and done.' Retirement is a long-term goal, and it's important to work consistently toward it over time. We have to think about our future self, and what we'll need later when we're unable to work," said Martina. In other words, planning for retirement is like preventative care to help take care of future you.
Many of us in the community lacked access to financial literacy growing up and haven't had money conversations normalized in our inner circles. When we asked our Amigahood community what keeps them from gaining financial freedom, 30% shared that lack of financial literacy was their main barrier. It is these very stats why Amigas In Wealth is back for a second year in partnership with J.P. Morgan Wealth Management, to help educate every mujer and tap into mujeres like Martina Jimenez Sperry to share knowledge that can help you build your own wealth.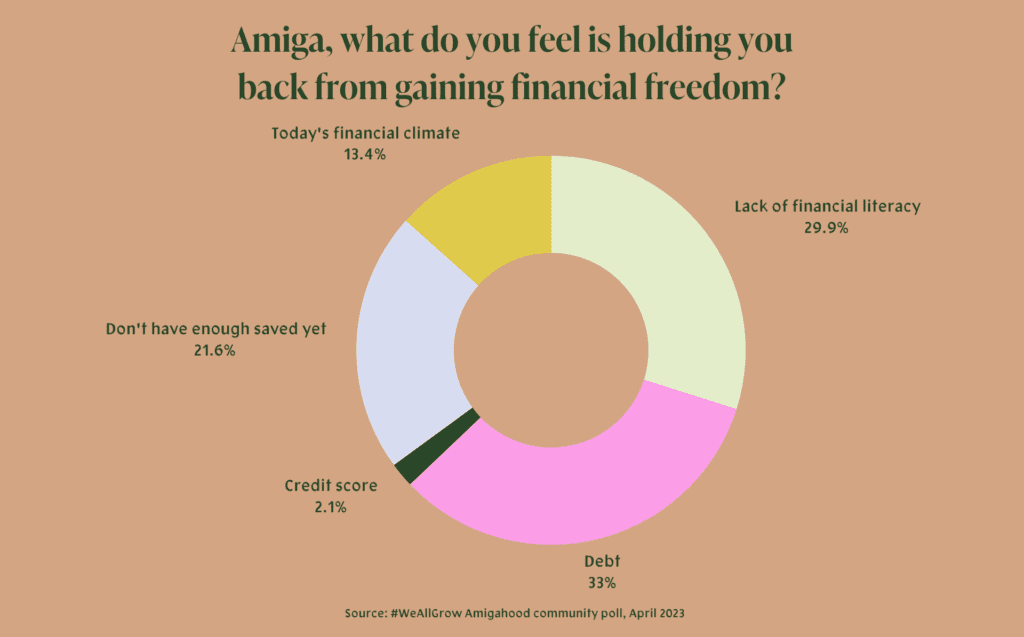 Step 3: Where is your money going & do you have a budget?
As shared earlier, our community has many financial goals they're preparing for; the majority being getting rid of debt. However, as Jimenez-Sperry shared with us, no matter your path, making any financial goal will require seeing where your money is going and how you can save money to meet the goals you're setting up.
"When you're looking at your full financial picture, the first thing you should do is review where your money is being spent," shared Martina. "You should look at your budget. What kind of money is going out versus what's going in? What are you putting that money towards? You really need to dive deep into how you can make sacrifices in the expenditures, if needed, so that you can allocate those funds towards your goals, debt and loan payoffs."
Was that an audible groan we heard when the words 'budget' and 'sacrifices' were mentioned? Ok, ok, we get it — it's not the sexiest thing to hear 'budget' and definitely not sacrifices, but let us remind you that these are the things that are required to build generational wealth brick-by-brick. The time investment you are putting in now will pay off long-term. Jimenez Sperry breaks it down for us.
"What kind of money is going out versus what's going in? What are you putting that money towards?"
"When you're creating a budget, find out how much money you're spending on things like eating out, and whether you could lower the cost of any recurring expenses, such as cable, utilities or car insurance." says Jimenez Sperry. "Think to yourself, can I lower that monthly payments so that I can free up more cash flow for me to use to pay off debt? No matter how you choose to do it, you just have to get to the bottom of what you are spending. What can you cut back on?"
Do you really need to have 10 different streaming subscriptions every month? Be honest — are you really watching every show on every streaming service? It all adds up to a big sum you could save. Perhaps this is the time to catch up on the stack of unread books piling up for a minute before this month's autopay kicks in.
"You really need to practice self-restraint," shared Martina. "Tell yourself that you are not going to go beyond the limit you've set for yourself." Knowing your credit score as you work towards your goals is also key. "[Knowing your credit score]'s great because you know where you stand every time you reduce that debt because it increases your credit score. Sometimes people forget how much debt they have accumulated. So you always want to check regularly what is on all those accounts? What is the balance?"
No matter your financial goal, amiga, these foundational steps can help you work towards the generational wealth you've been dreaming of and manifesting for yourself. Whether you're looking to start investing, launch your next business, buy a home, or save up for retirement, the help of a financial advisor could help you create a plan that is set up for your personal goals. We can help to shrink the gap in financial literacy. When we take the time to really understand our money habits and get more comfortable with our finances, in the same way that we prioritize our self-care, we can aim to be in both good health and in good wealth.
---
The views, opinions and estimates expressed herein are those of the speakers and are subject to change without notice. Information herein may differ from those expressed by other areas of J.P. Morgan. This information in no way constitutes J.P. Morgan Research and should not be treated as such. The views contained herein are not to be taken as an advice or a recommendation to buy or sell any investment in any jurisdiction and there is no guarantee that any of the views expressed will materialize. Any forecasts, figures, opinions or investment techniques and strategies set out are for information purposes only; based on certain assumptions, current market conditions and are subject to change without prior notice. All information presented herein is considered to be accurate at the time of writing, but no warranty of accuracy is given and no liability in respect of any error or omission is accepted. This material does not contain sufficient information to support an investment decision and it should not be relied upon by you in evaluating the merits of investing in any securities or products. In addition, investors should make an independent assessment of the legal, regulatory, tax, credit, and accounting implications and determine, together with their own professional advisers, if any investment mentioned herein is believed to be suitable to their personal goals. Investors should ensure that they obtain all available relevant information before making any investment. It should be noted that investment involves risks, the value of investments and the income from them may fluctuate in accordance with market conditions and investors may not get back the full amount invested. Both past performance and yield may not be a reliable guide to future performance.
​JPMorgan Chase and its affiliates do not provide tax, legal or accounting advice. This material has been prepared for informational purposes only, and is not intended to provide, and should not be relied on for, tax, legal or accounting advice. You should consult your personal tax, legal and accounting advisors for advice before engaging in any transaction.
​J.P. Morgan Wealth Management is a business of JPMorgan Chase & Co., which offers investment products and services through J.P. Morgan Securities LLC (JPMS), a registered broker-dealer and investment adviser, member FINRA and SIPC. Insurance products are made available through Chase Insurance Agency, Inc. (CIA), a licensed insurance agency, doing business as Chase Insurance Agency Services, Inc. in Florida. Certain custody and other services are provided by JPMorgan Chase Bank, N.A. (JPMCB). JPMS, CIA and JPMCB are affiliated companies under the common control of JPMorgan Chase & Co. Products not available in all states.
© 2023 JPMorgan Chase & Co.
---