Although the reproductive justice movement's founding members were Black women and allies of color, it often feels like the ones sidelined are voices of color. And normalizing our community's stories and experiences with abortion is needed to strengthen our fight.
More than 50% of the Latine community believes that abortion should be legal in all or most cases, yet an undeniable stigma still lingers around the topic? Here's the reality: communities of color bear the brunt of the recent decision to overturn Roe v. Wade, the landmark ruling that guaranteed the right to an abortion. And I'm not going to sugarcoat this for you; according to experts, the road to reproductive freedom could be long and arduous. So if we want to ensure bodily autonomy for the next generations, the topic of abortion can no longer be the elephant in the room. Instead, we need to slice through the discomfort that still exists within the Latine community and be unapologetic about the fact that our people have had and will continue to have abortions.
Organizations like the National Latina Institute for Reproductive Justice – an advocacy group that works directly with state and local reproductive health, rights, and justice organizations– center Latine voices in this generational fight for reproductive rights. Because here's the thing: although the reproductive justice movement's founding members were Black women and allies of color, it often feels like the ones sidelined are voices of color. And normalizing our community's stories and experiences with abortion is needed to strengthen our fight.
Maria-Alejandra Paz, the National Latina Institute for Reproductive Justice's Social Media Manager, had a chance to dive deeper into the topic with me via a Zoom call. She shared that the reproductive justice movement would not exist if it weren't for the initiative of Black and brown people.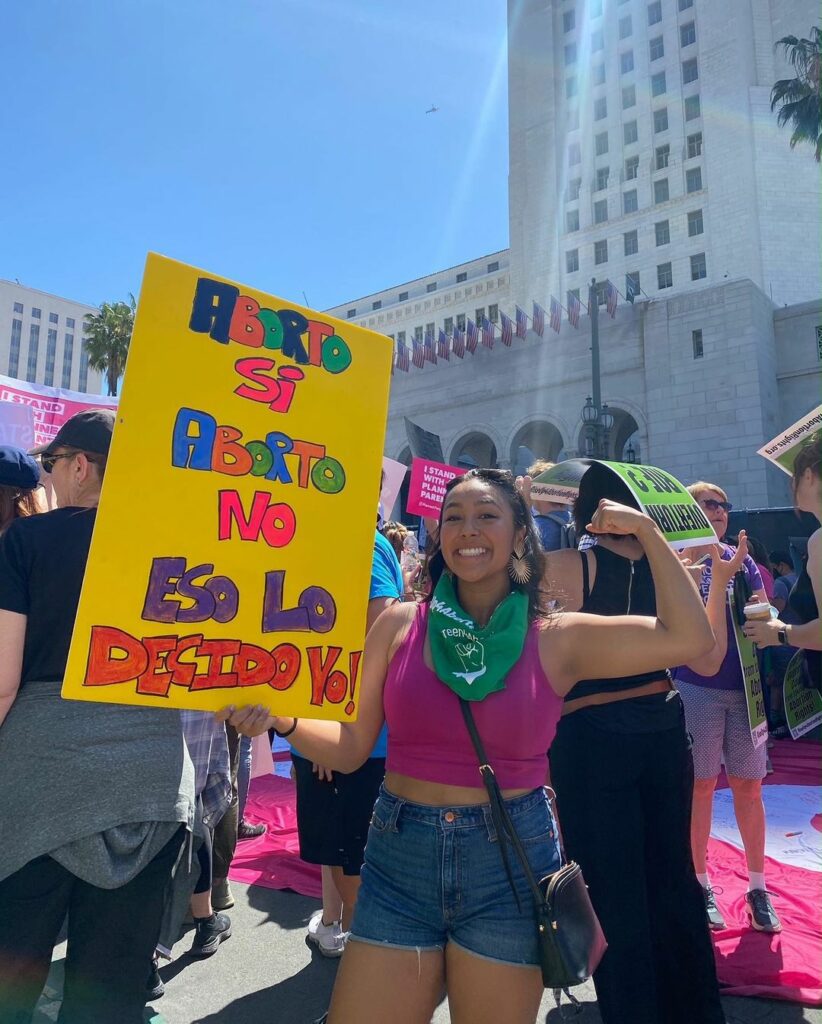 For Maria-Alejandra Paz, this issue is personal. Growing up, Paz unintentionally entered the world of reproductive justice after being asked to accompany family members and friends to Planned Parenthood. When it came turn for her to be a patient at Planned Parenthood, she remembers the anger bubbling up as anti-abortion protestors yelled outside the establishment.
"Whether I was getting an abortion or not, there was this constant attack on a decision I had to make for myself. I remember feeling a fire within me," said Paz.
So, she devoted her efforts to reproductive justice after graduating college. After working at Planned Parenthood for some time, she set her sight on making an impact within the Latine community.
"I thought to myself – I can't be the only one in my community searching or seeking reproductive care, asking others, 'What are you going to do now? What's happening?' And if I can spend the rest of my life helping people that looked like me, people who face immigration barriers, or language barriers, to get the care they deserved, then I want to do that by all means necessary," added Paz.

Currently, the barriers to accessing abortions are very real. With abortion deserts growing in size due to increased bans, access to abortion is a significant issue for communities of color that suffer from a lack of resources to make up to a 500-mile journey to receive the care they need. In addition, people of color are 2-3 times more likely than their white counterparts to die from pregnancy and birth complications. Then, you add immigration laws and status, which pose an additional barrier to communities of color trying to access abortion care. Plus, when you criminalize abortion, our communities will most likely be targeted and imprisoned. The reality is grim, and we don't have the luxury of pausing to take action.
"It's okay to be mad, and you should be mad. This is not okay. And we need you in this lucha", said Paz.
"To whoever has had an abortion, you are not alone. You are one of many people in this country seeking care for themselves, and you deserve the right to get that care without limitations or barriers."
Participating in this lucha might look different for everyone. For some, it's sharing your abortion story, if you feel safe to do so, as a way to destigmatize abortion within your community. A conversation has the power to create a ripple effect that awakens courage in others to speak up, validates the decision, and amplify the strength of our fight so others can have a choice over their bodies.
"I think relatability is the way that we feel seen. And when you see someone you love [sharing their story], it's like, wow, if she can do it, I feel brave enough to talk about myself as well", said Paz.
Maybe you haven't had an abortion yourself, but choosing to use the word "abortion" in conversation with friends and loved ones makes an impact. It continues to bring the conversation to the forefront of their minds and normalizes it.
"I think that saying the word abortion can be so hard, and adding a language barrier like Spanish can be even harder. But starting these conversations with the people closest to you like siblings or primas is a way to destigmatize it," she said.
For others, contributing to the lucha means staying informed. Take the time to learn about your state's laws regarding reproductive justice, access to abortion and how you can take action. Even if you are in a sanctuary state like California, it's critical to stay focused on the evolution of these laws because the States are only safe if we keep them safe.
And then, of course, you can support, amplify, and honor organizations working on the ground to make abortion accessible. You can donate your money to support their efforts or donate your time by volunteering and amplifying their work. We've shared a few organizations you can look into here.
If you are in the L.A. area, make sure you buy your tickets for the benefit concert 'Her Body. Her Rights. Her Poder' – a night of Latine music, spoken word, and comunidad supporting abortion rights, produced by Cosmica Artists, Empress, and #WeAllGrow on Thursday, August 11, at The Paramount. The most amazing part is that all proceeds will go to the National Latina Institute for Reproductive Justice. Maria-Alejandra will be at the event to share more about the organization's vital work to drive policy change, mobilize communities, and transform narratives.
"We can't do this work without the help of people. Change takes time. But working right now is what the future will be looking back on. If you don't get to see it, let's make sure at least the future generations get to see it. And let's work together and make sure that happens."
---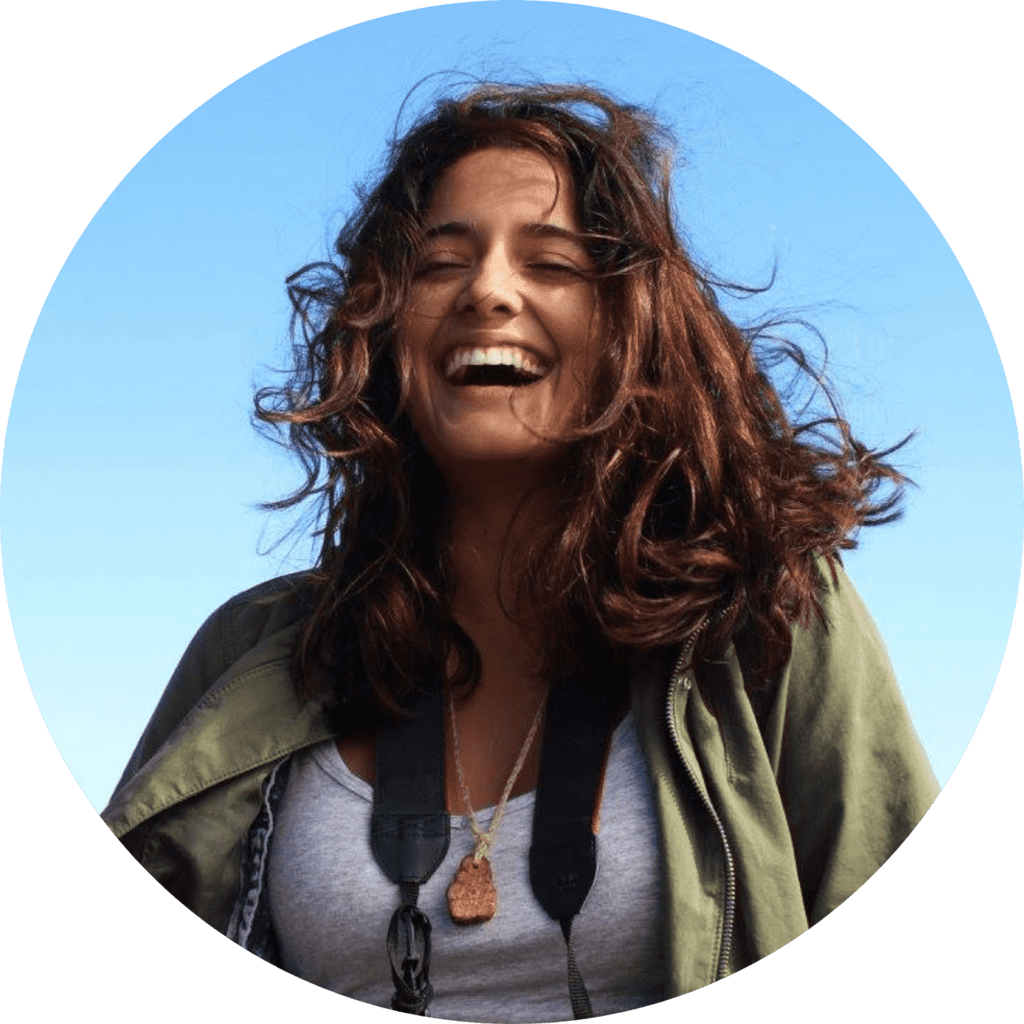 About the Author
Chantelle Bacigalupo
Chantelle Bacigalupo is #WeAllGrow Latina's Editorial Staff Writer. She is a Bolivian-American photographer, multimedia journalist, and activist based in Brooklyn, NY. Her work focuses on issues ranging across immigration, social & environmental justice, preserving Indigenous cultures, and reproductive justice.