You're invited to shout ¡Págame! with us and demand equal pay using these vibrant, customizable social media templates, so you can raise awareness across your platforms.
Latinas are among the fastest-growing, most powerful groups in the United States, yet we are still underpaid. Whether you're in a position of power opening new doors or negotiating for fair pay for yourself and others, we all have a role to play in this change that benefits the collective. Don't know where to start? Start by raising awareness by using these customizable social templates to amplify the message in your social circles and in the workplace and demand the full dollar we deserve!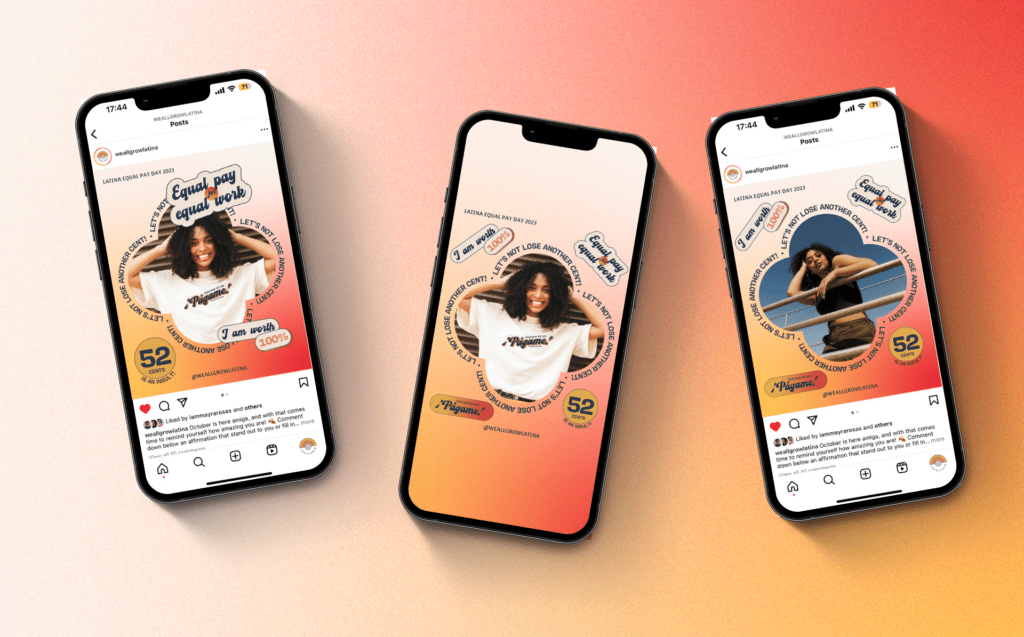 Whether you want to shout ¡Págame! on LinkedIn, Stories, or even on your work's Slack channel, we've created two templates for you to use and customize to your style. Click below to begin customizing your template:
The 4×5 template is best for Instagram in-feed posts, LinkedIn, Facebook, or Threads.
The 9×16 template is best for Instagram Stories, Facebook Stories, and TikTok Stories,
Use the demo below to learn how to use the templates:
While posting on your social channels might not feel like a big move, it increases visibility of Latina Equal Pay Day and why it matters. Every drop of effort creates a ripple of change.
"Don't assume that your friends and colleagues know this inequality exists in almost every work sector," shared #WeAllGrow founder & Co-CEO Ana Flores.
"The more they know, the better equipped they will be to ask the right questions and advocate for themselves and others."
Let's keep fueling the conversation, so people in power feel the pressure. When we shine a light on a systemic issue, whether it's through our social media or beyond, our collective effort makes an impact.
We can't wait to see you shout ¡Págame! online and IRL!
---