At the heels of her attending the GRAMMY's for her nomination for Best Latin Rock or Alternative Album, we met with Gaby Moreno to talk about her nominations, her mission as a musician, and how her ancestors have influenced her career today.
Like the golden hour that shines over the Griffith Observatory, Gaby Moreno shines in her adoptive city of Los Angeles. But don't get Gaby wrong – the local Angelina has never abandoned her native Guatemala. Instead, she carries her heritage and roots in every element of her being and her career as a singer-songwriter.
"I always take [it] with me everywhere I go," says Moreno. "It's always important to me to reflect through my music, who I am, and where I come from. I feel incredibly proud to be Latina and to be from Guatemala. Whether it's through lyrics, stories, poems, I have honored my family, my parents, and my grandparents."
A Gift From Her Grandmother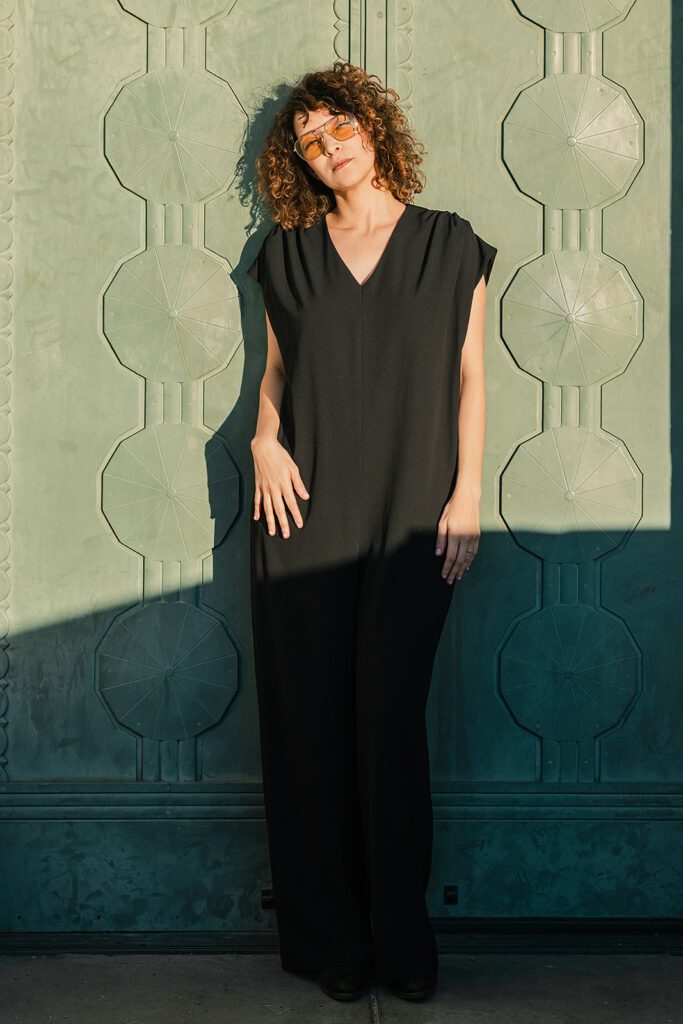 In fact, it was Gaby's grandmother, who recently passed, who wrote poetry and was a catalyst for her career today. "I have a very strong connection to my grandmother," says Moreno. "And I turned one of her poems into a song for my last album, Alegoría."
The poem turned song is El Merendero Gratuito (or 'the free café'), which is reminiscent of the folk tales our grandparents would tell us growing up. In the poem, her grandmother paints a vivid picture of the animals that cohabitate in this environment and the colors of flowers, plants, houses, and scents that take over this place born from Gaby's grandmother's memory.
Through this song, it's evident that Gaby inherited the gift of storytelling, poetry, and 'alegorías' through her grandmother.
"She wrote poems to every single one of her grandkids," shared Moreno. "I kid you not, in my poem, she says, 'Gaby loves to sing and dance.' Yes, I was probably singing as any little kid would do, but just the fact that she had that premonition I was going to be a singer is really amazing."
To say that Gaby's career was chosen for her since she was a child would be incorrect – it's her gifts that have been nurtured through her family, ancestors, and her cultura that have led her to choose the path she is on today.
Staying True to Her Roots Within the Music Industry
"Since my first album, I've been including and sprinkling here and there some of my Guatemalan-ness, and things about my family and my ancestors," says Moreno.
However, when it comes down to business, the industry can try to mold and shift artists to be more marketable. "I stay true to myself, be real and honest as possible with my music and what I do, and live that truth," said Moreno. "It took quite a while to get to where I am to find, to find my voice, to find who I wanted to portray myself as an artist. And what I wanted to express through my music. Now I feel I have arrived at a place where I can say, 'okay, this is who I am. I'm not trying to be anybody else but me. Take it or leave it.'"
And she's right: it's hard to find another 'Gaby Moreno' that blends the Spanish and English languages so seamlessly in one album that has a folk and Americana sound while still making sure to include the nuances of her "Guatemalan-ness," including the marimba, the national instrument of Guatemala (and for most of Central America). It's the same mindful composition of her album Alegoría that landed her a nomination for Best Latin Rock or Alternative Album, alongside Rosalía's 'Motomami,' Mon Laferte's '1940 Carmen,' and others.
Gratitude Through Yellow-Tinted Glasses
But despite not winning in her category at this month's GRAMMY's, Gaby isn't phased. Instead, she gleams with gratitude behind her yellow-tinted glasses.
"Latinos all the all over the U.S. and beyond got to see [Latinos] at the American GRAMMYs, and that's making a lot of kids out there dream big and think, 'that could be me.'"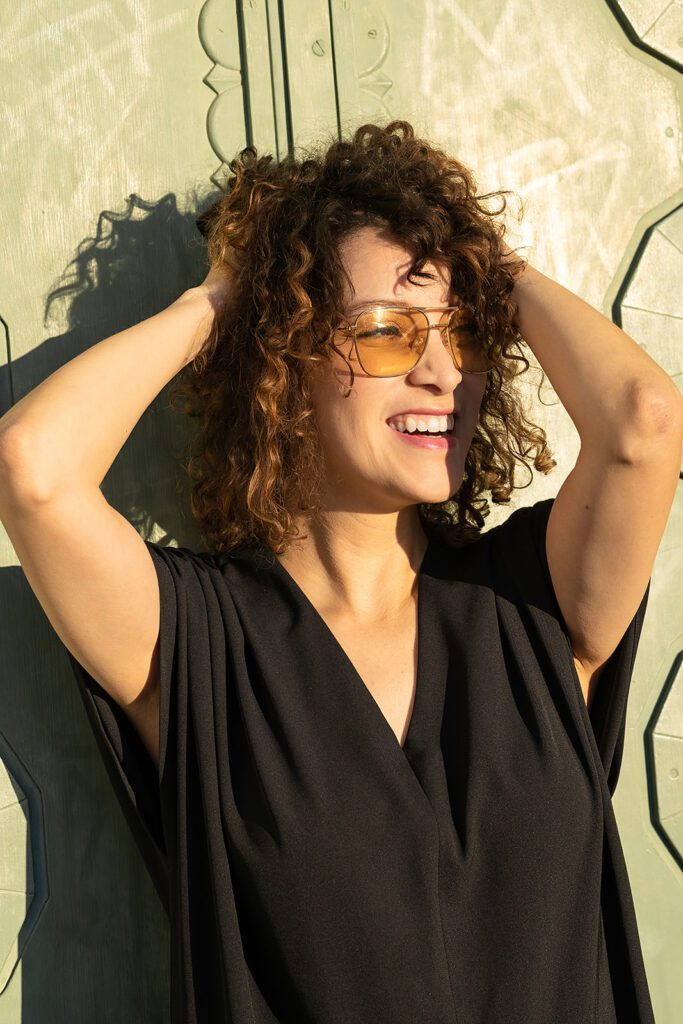 "I know it sounds cliche, but in the end, we really are all winners. We're all being celebrated. We're all being recognized," says Moreno. "Our names are out there; someone like Benito actually got to sing at the ceremony, and that's a huge deal. Latinos all the all over the U.S. and beyond got to see [Latinos] at the American GRAMMYs, and that's making a lot of kids out there dream big and think, 'that could be me.'"
But at the end of the day, many of these award shows are institutions that don't have Latinos or POC at the decision-making table. Do we need to elaborate on how Beyoncé or Bad Bunny should have won album of the year? But I digress.
I ask Gaby, outside these award shows and nominations, how does she look for validation?
"Maybe it's because of how I grew up, or from being from Guatemala, but I do feel the need for validation from my family," shares Moreno. "But in the end, the most important thing is that I can validate myself and that I'm happy with what I'm doing." Not only that, but Gaby expresses validation and gratitude through the stage of her growth to become the artist that she is today.
"I go back to [telling myself], 'you're living the dream,'" says Moreno. "You're already way ahead of where you thought you [would be] five years ago.' And where I'm at right now is definitely a step ahead for me from where I was dreaming five years ago. Be grateful for life, for the circumstances, and for the people that have helped you get to where you are right now. I'm so grateful."
A Serenade to the Immigrant Experience
It's Gaby's gratitude and genuineness that are felt throughout her songs and her music that resonates with so many people and people across borders. So much so that the Biden campaign tapped her to use her song 'Fronteras' as the closing anthem of the 2020 campaign right before voters headed to the polls. As an immigrant herself and now a U.S. citizen, her songs also tap into that experience, making her songs feel so familiar and genuine and like home for anyone with Central American roots or immigrants from LATAM countries.
"To immigrants, I hope [my music] offers a message of unity, of love, of self-determination, of keep pushing, keep dreaming," says Moreno. "To keep celebrating our culture because it's really an incredibly beautiful and colorful one. We should all be so proud to be Latinos here in the U.S., and don't ever [assimilate]. It's so powerful to have your Latinidad, and we should all be wearing it proudly."
It's a long road that Gaby Moreno has come from her native Guatemala to now chatting at the Griffith Observatory one day after the GRAMMY's and one day before she flies back to Guatemala to do charity work with UNICEF. I ask her if she were to tell little Gaby, who got her inspiration and love for blues on the streets of Times Square during her first trip to New York when she was a teenager, what would she tell her?
"Never stop believing. That anything is possible, and you can achieve anything," says Moreno. "Always have your feet on the ground, and not get discouraged by things that might not go my way. That's the journey, and it still is a journey today."
Photo credit: Nicole Godinez Photography
---