Amazon joined us at #WeAllGrow Summit to celebrate our cultúra Latina and the amazing game changers in our community that are uplifting our voices and representing us with pride!
The beautiful thing about us as Latines is that we have our sazón embedded in everything we do. Everything has an undeniable flavor that is hard to resist, from the literal seasoning we put in our food to the clothes we wear, the music we listen to, and the books we read. Amazon came ready to spotlight our cultura with Amazon's You Make Cultúra Experience to celebrate all this and more. Not only that, they gave the spotlight on our main stage to Latinas changing the game by bringing their authentic selves to their work, activism, and every aspect of their lives.
We ensured that festivities were going on during all #WeAllGrow Summit weekend, and Amazon made sure to understand the assignment. On Saturday, Amazon brought the party to the weekend with the You Make Cultúra Experience. As you entered the suite, you could see every corner was a celebration of the Latine experience in all its dimensions. In the background, as you walked through, Alexa was locked in playing some of the best Amazon Music playlists like 'The Game Changers' and 'Tributos,' all of which celebrated artists whose music reshaped the world- regardless of language.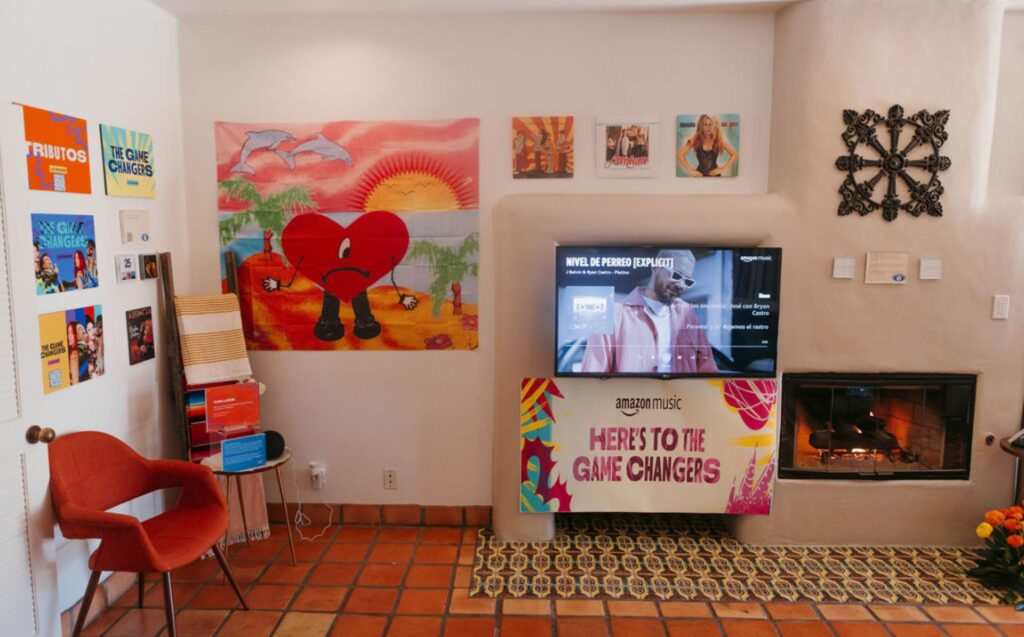 In the back of the house, you were invited to start #LivingLaVidaPrime, exploring new benefits like exclusive sales events for Prime members, Latin genre content on Prime Video, and Try Before You Buy for Prime members. You could also explore The Drop's curated collections crafted by Latina fashion creators and influencers in collaboration with Amazon. With that, sprinkled throughout the entire house were challenges you could participate in by simply posting cute content to your social media for a chance to win amazing gifts, including a free one-year Prime membership. Not only that, but we also discovered that Alexa is bilingual – just say, "Alexa, speak Spanish." We could ask Alexa about un orgullo Latino, which helped us learn much more about the pioneers of our collective cultura.
Outside was a beautifully decorated and illuminated pool as a background, where guests could take pictures under the Palm Desert sun at the photo booth and get a morning or midday pick-me-up cafecito from the coffee bar by the pool. As coffee was served, guests could have sit-down conversations with jefas driving their vision forward. After the cafecito chats wrapped, the Amazon Music cocktail hour commenced in the late afternoon. DJ Que Madre brought the right vibes for a pool party celebrating the best of Latin music playing straight from Amazon Music's The Game Changers playlist all night long. Everyone was dancing, vibing, and celebrating our cultura and a magical weekend at #WeAllGrow Summit, from the floor to the pool.
Back at the #WeAllGrow Summit main stage, the Creating Cultúra conversation was front and center with our audience. The panel spotlighted Ari Trujillo-John (Co-founder and CEO of OpenField AI and AWS Startup Founder), Isabella Maldonado (Creator of the Wall Street Journal bestselling Nina Guerrera series and Amazon Publishing Author), and Lissette Gaviña (4th generation coffee roaster, serving as Chairman of the Board and Managing Director overseeing Sales & Marketing at Gavina Coffee), in conversation with Franchesca Surun, Business Development Manager for Amazon Live. Throughout the conversation, these women shared their stories of working hard to drive the vision and mission of the businesses they have dedicated themselves to.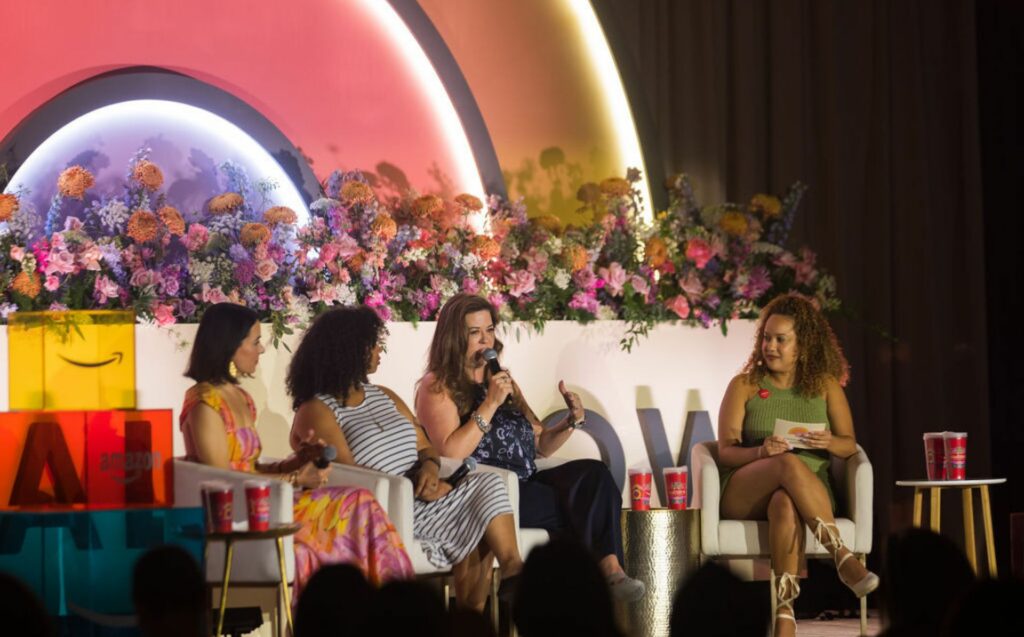 "When you go and decide to get involved in something, take your family with you and show them what accessing and using power for ourselves looks like," said Ari Trujillo-Wesler. "Because you're already leading a bunch of people around you, so honor that in yourself and honor that in the ways that you are shaping and leading. We're already transforming what America looks like. Our power is here and it scares some people."
We were so grateful to have Amazon enrich our experience at our Summit and celebrate the individual experiences that weave our collective community of Latines together. The desert sun may have set, but Amazon's You Make Cultúra Experience lives on at Amazon.com/cultura. To experience our cultura with Amazon at home, make Alexa bilingual by saying, "Alexa, speak Spanish," and ask Alexa, "Alexa, hablame de un orgullo Latino." Explore beloved brands and support Latin-owned small businesses at Tú Hispanic Shop. Finally, experience the game-changing selection of Latin genre entertainment on Amazon Music and Prime Video to bring the party a casa!
---