17-year-old J Noa has a sharp tongue, quick wit, and even quicker raps. But don't confuse her young age for naivety; 'La Hija del Rap''s conscious and fearless lyricism shows the world that girls like her are not to be underestimated.
J Noa might only be 17 years young, but she has a blazing flow with conscious lyrics that can shut up any rap elitist skeptical about young female rappers. But those doubters aren't even in her peripheral view from the studio booth; her eyes are set on bringing consciousness back to rap, educating her community, and putting a spotlight on her community to the outside world of what it's like to live in the hood.
The Dominican Republic Has Given Birth to 'La Hija del Rap'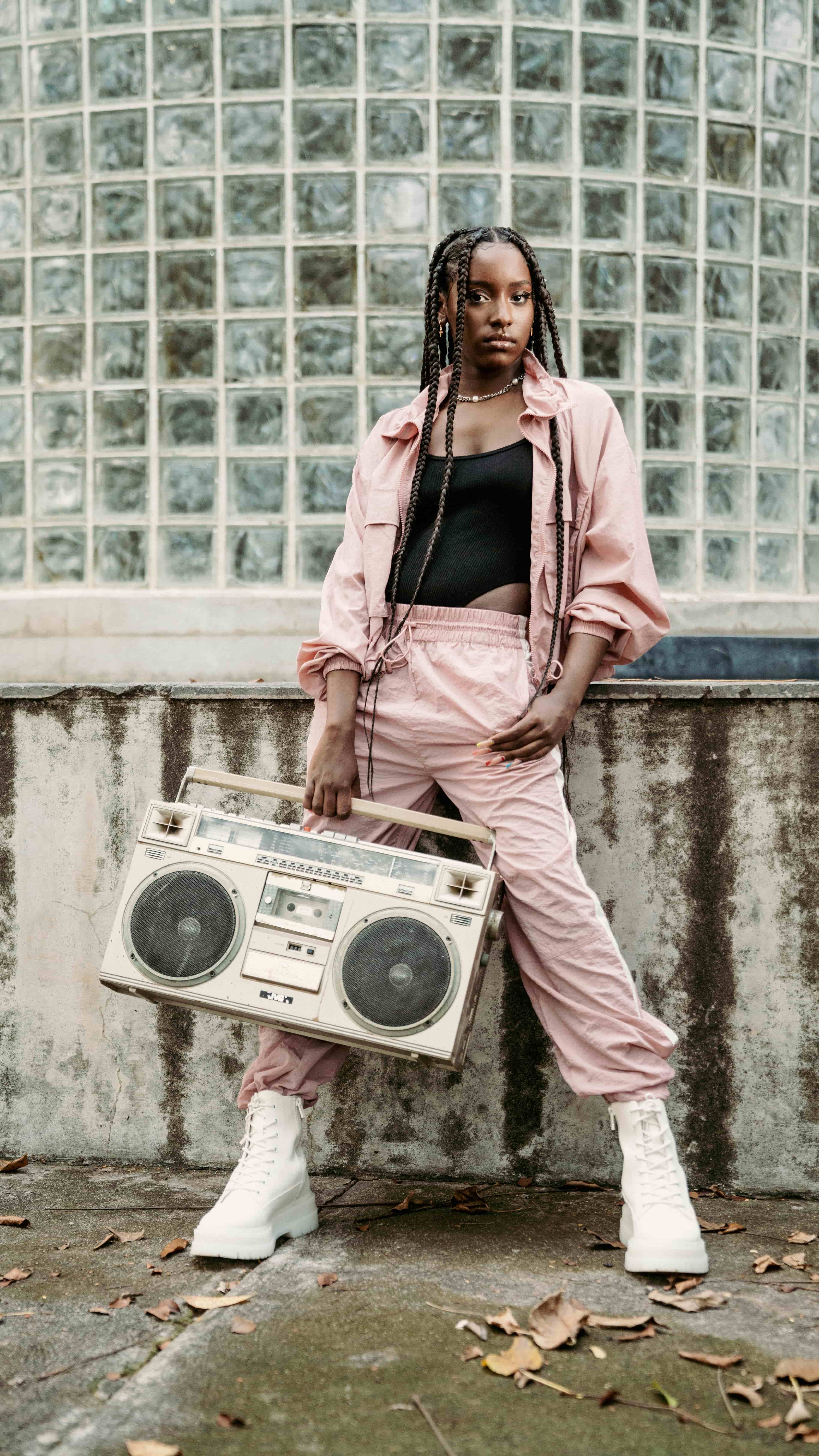 Born Nohelys Jiménez, this Dominicana's raps don't stray too far from the realities of growing up in the neighborhood 5 de Abril in San Cristobal. Admittedly, her raps are pretty mature for what you can expect to hear from a 17-year-old, but J Noa raps about what she knows and has witnessed firsthand in the Dominican Republic. Her delivery mirrors that maturity and boldness.
"The boldness and maturity that I express in my songs and the delivery of my raps come from how I've grown up and what I have learned along the way."
"The boldness and maturity that I express in my songs and the delivery of my raps come from how I've grown up and what I have learned along the way," says J Noa.
As she speaks, she spares all humblebrag and any self-doubts; she's very matter-of-fact about her intelligence and wit. It's what has shaped her to be who she is today.
"Since I was little, I've been very smart. I'm the kind of person that will see something, and I will have an idea born out of it. I didn't have a regular childhood like other kids who were playing in the park, so I grew up having to learn a lot about life." 
Fighting the Stereotypes Contra El Barrio, One Lyric at a Time
She has seen quite a lot growing up in San Cristobal and had to grow up fast. Her freestyles and raps are a vivid look into the socioeconomic state of her neighborhood and her country. Her listeners are the visitors, and she is your tour guide. As depicted in the music video for her latest single, 'Betty, she shows us how in the barrios of the DR, one's life can immediately change due to bad decisions, bad company, limited resources, and limited opportunities.
"If you look at the music video, the people that I'm taking in the golf cart with me are upper class. I'm showing them what it's like to live inside the barrio, so my objective is to open consciousness," says J Noa. "I've actually brought upper-class people to my neighborhood, and they were able to put themselves in the shoes of my community. They left and made sure to give back to the neighborhood. I know my neighborhood isn't the most beautiful thing in the world, but it also isn't the most terrible place either. I want to show the beauty of it as well, but the problem is that if I only talk about the good, then no one will pay attention. I need to shed light on the bad, so I can help improve it. Because if it's all good, then no one is going to think that anything needs to be fixed."
J Noa isn't just trying to put her neighborhood on the map to the outside world – she's also speaking directly to her community. In 'Betty,' she describes the cautionary tale of a 17-year-old girl swayed by bad company, teen pregnancy, and drugs. She wraps up the song saying, "lo que le paso a Betty te puede pasar a ti, solo espero que tus decisiones no sean igual." ("What happened to Betty can happen to you too, I just hope that your decisions aren't the same.")

"It's not just to show the upper-class how it's like to live in the hood," says J Noa, "but also open the minds of young girls who follow me and might be in the same situation as Betty. I understand with one positive message and piece of advice that I can give, I can inspire them as someone who is also their age, is working in music, and is also in school. I hope to show them that they can do it too."
As I speak to J Noa, 17-year-old me is resonating with her message in trying to defy the stereotypes and statistics set for kids from the hood. Having been raised in Compton myself, I let her know that I, too, understood the damaging narrative attached to girls from the hood like me. However, she tells me that it wasn't just the external world that expected her to fail as someone from el barrio; it was close family friends too. 
J Noa Is Writing Her Own Lyrics and Her Own Narrative
"There was one time in our house I overheard them telling my mom that she needed to be careful with me growing up because my eyes were 'muy vivos,'" she shares. Of course, anyone else would think that a description of having eyes that looked vivid would be a compliment, but this person was implying that J was too smart for her own good, and it was going to end her up in trouble.
"They told her 'ella es demasiado inteligente, tú tienes que tener cuidado con ella,'" she shared with me. "They told my mom unpleasant things about me. They even told her she needed to be careful with my sexuality. It's a pressure I've felt since a little girl."
But she's used that pressure to change the narrative others decided to write about her without her permission.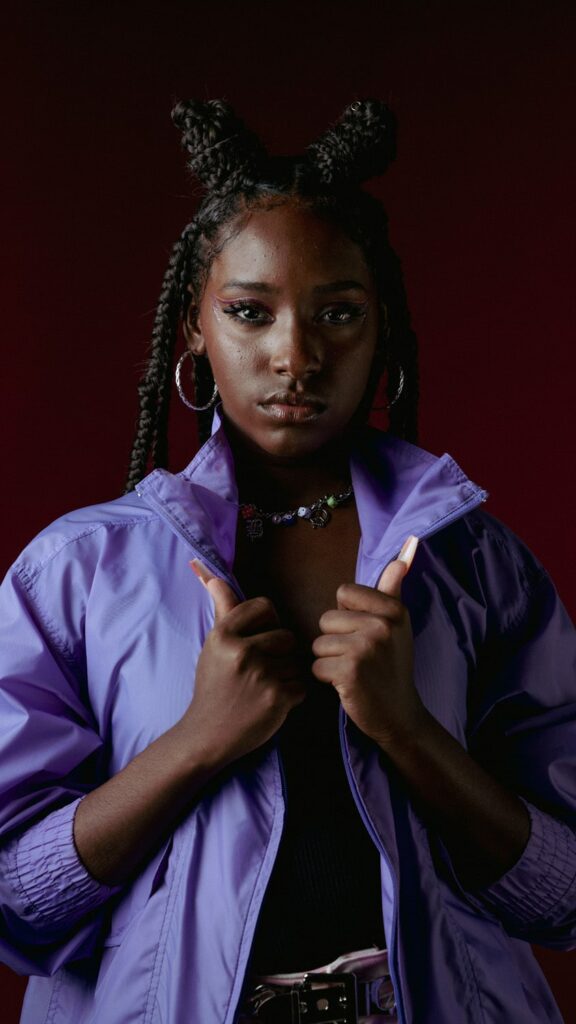 "When you have that type of pressure, you just want to grow up, shut those people up, and prove to them how wrong they were in making those assumptions about you."
"When you have that type of pressure, you just want to grow up, shut those people up, and prove to them how wrong they were in making those assumptions about you."
And she's done just that. At just 17, she has signed with Sony Music Entertainment, has been covered on Billboard Latin, CNN en Español, Remezcla, People en Español, Univision, and Telemundo (to name a few), and has racked up over a million views on her YouTube channel. And as the self-proclaimed La Hija Del Rap, she is living up to her idols Melymel (La Mama del Rap) and Lápiz Conciente (El Papa del Rap) with a fire flow that keeps all those that cross her path bewildered by her prowess.
A Love Letter to Rap, Black Women, and Herself
However, in such a male-dominated field, I'm curious about how she's been able to navigate her path as a rapper despite her gender and age.
"This industry is practically a boy's club, but my age works in my favor. Since I'm young, people are like 'wow, she's 17, and she's rapping with those rhymes and that maturity,'" she shares. "It's like people forget that rap is for men when they hear me. Still, people make comments online saying that my rap style is just for men and that if I keep up with this style I'm going to change my personality and become a tomboy. What does that have to do with who I am?"
And that is one thing I learned about J Noa in this conversation: she doesn't care an ounce about what you think or say about her. She is unfiltered and unapologetic in the way she carries herself and in her delivery because she does this for herself, for the girls that look up to her, and for the genre that raised her.
"I dedicate my rap style to Black women. I am a woman that loves my color, and I will defend my color. I was born with rap, and I will die with rap. And the legacy I want to leave is that I was always rap."
---