There's nothing quite like sitting in on a conversation with powerhouse Latinas pouring out their hearts.
'The Culture Is: Latina' was the medicine we needed this week.
I would like to personally thank MSNBC, Justina Machado, and everyone involved in the creation of "The Culture Is: Latina," a one-hour special that was just the medicine my heart needed to mend a bit after 5the death of "Batgirl" and "Gordita Chronicles." Did my eyes get replaced with heart emojis as I watched powerhouse Latinas — some of which are our very own Amigas — sit down for a roundtable discussion as they feasted on delicious Oaxacan cuisine prepared by our amiga Bricia Lopez, co-owner of the renowned restaurant Guelaguetza.
Here's a roll call of the fantastic Latinas featured:
Julissa Arce, Author of "You Sound Like A White Girl: The Case for Rejecting Assimilation"
Gloria Estefan, Grammy-Award Winning Singer, Actress, and Philanthropist
Maria Hinojosa, Pulitzer Prize Winning Journalist and Anchor of "Latino USA"
Gloria Calderón Kellett, Executive Producer and Showrunner
Bricia Lopez, James Beard Award-Winning Restaurateur, and Author
Janel Martinez, Writer and Founder of "Ain't I Latina?"
Mónica Ramírez, Co-founder and President of The Latinx House
Gina Torres, Actress, and Producer
Oh, and there's also an interview with Rosie Perez, pa' que tu lo sepas.
I could try and recap everything said and discussed, but I'd instead let these women speak for themselves by sharing some of my favorite quotes from the special.
Justina Machado on hosting the special:
"One of the things, when they approached me to do this, is it's important for me to put out there that Latinas are not a monolith. You know? That we are not a monolith, but yet there is something inherently Latina about every single one of us."
Gloria Estefan on spirituality:
"I grew up Catholic, went to an all-girl Catholic high school, and we would pray. I never really understood the concept other than you're repeating — it's like a mantra. It wasn't until I had an accident in 1990 where I was paralyzed, and I felt people's prayers. There were millions of people praying for me worldwide, and I could feel it as energy. I felt like I was plugged into the wall."
Gloria Calderón Kellett on having kids:
"I remember we had friends over for dinner, and our friend was super against children. He was like, 'Gloria, maybe you shouldn't because you're trying to change the world with your work, and you're trying to do all that stuff. Do you really want more of you in the world?' And I was like, 'Yes, I really do!'"
Gina Torres on fairy godmothers:
"That's the other lie that you hear all the time, 'Nobody helped me. Nadie me ayudo a mi.' It's a lie! We've all had fairy godmothers."
Maria Hinojosa on democracy in the United States:
"Latinos and Latinas are the second largest voting block — not a block; it's a cohort. If Latinos and Latinas are not thinking about democracy breakfast, lunch, and dinner, then our democracy is in trouble."
Julissa Arce on humanity:
"I used to think I could share my story and get white people to see me as human. Then I realized I was never going to convince someone to see me as human and that it's not my job to convince someone else of my humanity."
Mónica Ramírez on context:
"Only 1 percent of all philanthropic dollars have historically been invested in our community, and that includes money to do civic engagement and civic education work. And during the pandemic, when we were holding this nation up, it dipped to .8 percent."
Janel Martinez on looking for representation of Afro Latinidad:
"When I looked to media outside of my home for representation, it was women like you, [Gina Torres] — very few — onscreen, which was in the African American television market, where I then pieced together 'Oh, my goodness, Torres is her last name.'"
Rosie Perez on being shamed for her Spanish:
"I still get nervous to this day speaking Spanish. It's a false power that our own people use against us, and it's dividing."
If you watched the special when it originally aired on August 7, you know how delightful it was to hear the conversation between these women. They were funny, insightful, honest, profound, and inspiring. I laughed, I cried, and everything in between. If you didn't get a chance to watch it, the good news is that it's available to stream on Peacock. And stream it you should because we absolutely need to be supporting this type of content.
And what type of content is that?
The type of content that says, "You know what, if they aren't going to invite us to their table to talk about issues important to us, then we're going to create our own table."
---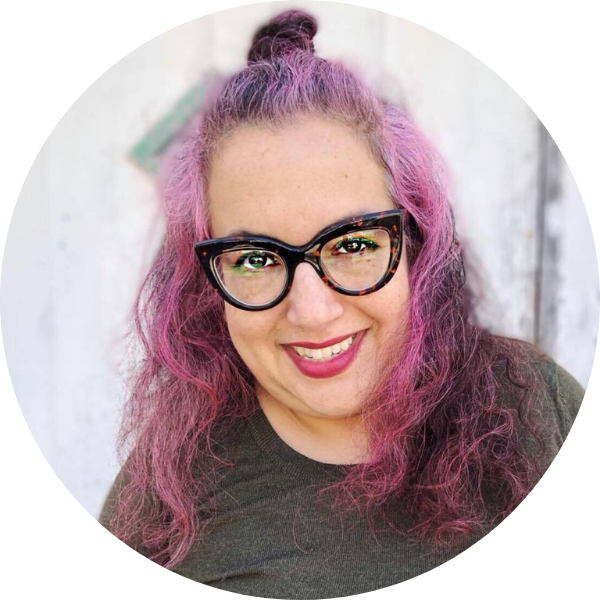 About the Author
Claudya Martinez is a writer and content creator with a sense of humor. She loves collaborating with #WeAllGrow. You can follow her at @byclaudya on IG.