Change is an inevitable element of life that you will see play into your career as well. Lean into the redirection with a Change Management Consultant who embraces the shifts for a living, and take a look into a day in their life.
Challenges often come into our lives in waves. It can be disorienting when we don't know which direction to turn or who to turn toward for support. And for children of immigrants, it can feel especially challenging when it comes to choosing, navigating, and working towards a career. Well, amiga, you are not alone on this professional journey. With the help of our friends at T. Rowe Price, we've teamed up with Arlene Cabrera, to take a look into a day in her life navigating the professional world, overcoming personal and professional challenges, and her experience working at T. Rowe Price as a Latina.
As VP, Lead Change Management Consultant within T. Rowe Price's Enterprise Change Office, Cabrera is responsible for building strategies and plans that support people as they navigate change. By coordinating participation from leaders, associates, subject-matter experts and support teams, her holistic approach prepares, equips, and supports people to achieve their goals at T. Rowe Price while navigating a new reality.
"Every change has its unique challenges, impacts, and benefits, which is why every project is an adventure," Cabrera said.
Growing up, Cabrera didn't have her heart set on a particular career until she moved from Panama to the U.S. She remembers feeling intimidated and confused by a different culture and language. However, once she learned English in ESL class she felt comfortable in expressing herself more freely, and soon realized that communication was an essential skill to successfully get to where she wanted to go.

"As a teenager, I found an interest in communications and realized it stemmed from the gratifying feeling of being heard and understood. So, communication was my initial interest and the gateway to my career in change management."
Arlene Cabrera, T. Rowe Price
When Cabrera joined T. Rowe Price, she began in the HR department, where she initially used her expertise to integrate change management principles and methodologies into the communications function. Then, she transitioned into leading change management efforts for top priority initiatives across the firm. This sparked her interest in Organization Development, a study of an organization's performance and culture. Now, she is two courses away from earning her master's degree in Organization Development and Change at Penn State University.
"Being able to support changes impacting the different business segments in our firm has contributed significantly to my growth. I developed a greater understanding for how we operate holistically as a firm," Arlene Cabrera said."
"Once your career comes to an end, you won't look back at your plans, spreadsheets, or charts, you'll look back at the people you met, the memories, the impact they had on you, & you had on them."
After successfully building strong relationships and teams at her previous organization, the decision to close that chapter for a new one came with a slew of emotions. In fact, one of the biggest challenges Cabrera has faced in her career thus far was the transition from her previous organization to T. Rowe Price.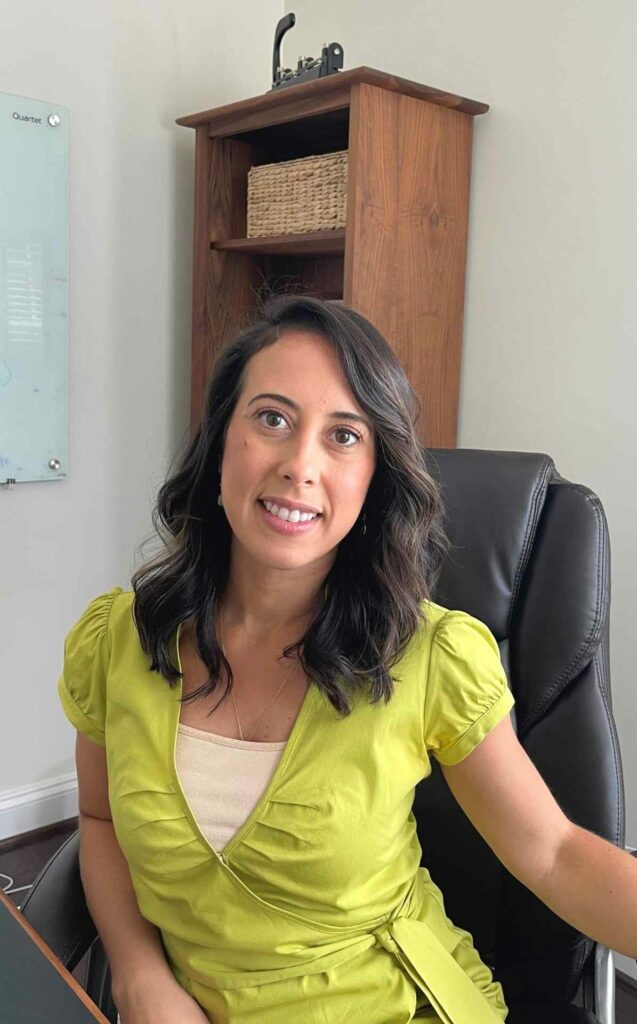 "It was challenging to start over with a new organization, a new team and of course, there's the fear of the unknown," Cabrera said.
T. Rowe Price prides itself in cultivating an open, welcoming, and positive community within the company, which made Cabrera's transition that much easier. If you're starting at a new company, Cabrera recommends taking the time to get to know the people and to build both personal and professional relationships. It's a foundational element to a positive professional experience.
"Once your career comes to an end, you won't look back at your plans, spreadsheets, or charts, you'll look back at the people you met along the way, the memories you built, and the impact they had on you, and you had on them," she said.
Cabrera appreciates the collaborative aspect of T. Rowe Price's work culture, where the opportunities to grow professionally are abundant. Whether that be through learning, Business Resource Groups, rotational assignments or stretch projects. Cabrera also admires T. Rowe Price's unwavering commitment to integrity.
"We really strive to do what's right by the client and by each other," she said.
If you're curious about what a day in the life looks like for a Lead Change Management Consultant at T.Rowe Price, Cabrera starts off her morning with self-care. Whether it's a workout, yoga or meditation session, she prioritizes an activity that centers and motivates her energy for the day ahead. And then she's off to the office where she typically listens to podcasts like Freakonomics, On Purpose with Jay Shetty, or Oprah's Super Soul during the commute.
Once she starts her workday, she makes sure to prioritize the strategic work first, because that's when she does her best thinking. This includes any analysis, planning, and problem-solving. As the day progresses, she moves towards tactical, checking the box type of tasks. Her favorite part is that the main focus of her energy is on helping others. Whether that's building the right change plan, establishing a coalition of change advocates, or elevating the voices of those experiencing the change so that she can best support them through it.
Now, each person has a slightly different definition of success. For Cabrera, she defines success as having the opportunity to operate at your fullest potential, making a positive impact, and supporting others along the way. When she is not investing her time in supporting businesses to achieve successful results, she contributes her expertise to the Latinx Heritage Community as a Co-Chair.
If you are interested in a role similar to Cabrera's or the field of Communications, take a look at T. Rowe Price's website for any potential career opportunities, and see if you would be a good fit. T. Rowe Price is looking to expand its community with amazing candidates like you! Insider tip: check out T. Rowe Price's training course on the Prosci change methodology, and to get involved in projects that will allow you to gain experience in helping managers and associates prepare for business transitions. Choosing, and imagining what the future may hold is already difficult and daunting in itself. Navigating our careers as minorities in workplaces– even more so. Pero, estamos aquí contigo. Ride the wave, and we can't wait to see where you'll land.
If you are interested in taking the next step in your career, check out the career opportunities at T.Rowe Price – a global company with a community feel.
Also, read more pieces from us and T. Rowe Price, check out how to overcome imposter syndrome here and if you're looking for the best tips to brush up your interview skills, click here.