Latina Equal Pay Day falls on December 8 this year, and we wish that it was a day to celebrate the anniversary of a time long, long ago when Latinas finally achieved pay parity with white, non-Hispanic men in this country. Pero no, sadly, this day is not a celebration; it is a call to action.
What exactly is Latina Equal Pay Day?
Latina Equal Pay Day (LEPD) was created to bring attention to the approximate number of additional days Latinas must work into the new year in order to earn what white, non-Hispanic men earned the year before.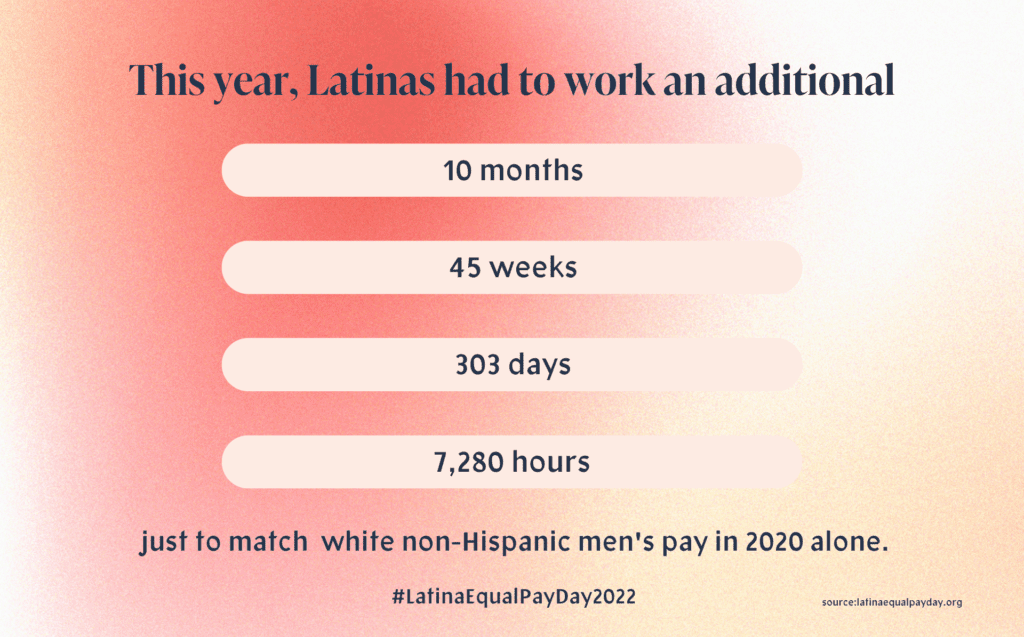 Wait, what the qué qué?
Here's how it breaks down with actual data: According to information from the 2021 Census, the median annual pay for a white, non-Hispanic male at the time was $57,005, but the median annual pay at the time for a Latina was $30,551. Using those numbers, you can calculate that Latinas had to work 22 to 23 months to make what an average white, non-Hispanic dude made in 12 months.

Do Latinas deserve to get paid less for equal work?
¡Por supuesto que no! And it's also not our fault either. Plenty of people will argue that Latinas are not good at negotiating their pay, and therefore it's our fault we're getting underpaid. Here's what I have to say to that: Yes, we need to learn how to negotiate our pay, but let's acknowledge that it's not on us that we are regularly and systematically ripped off.
OK, but why is there even a LEPD when there's already an Equal Pay Day?
That's because the gender pay gap is also affected by a woman's race/ethnicity. Check out the breakdown of Equal Pay Days in 2022 and how much women in each group are paid for every dollar a white, non-Hispanic man makes. Please note that Indigenous and Native women are the lowest paid group.
· Equal Pay Day — March 15, 2022 — 83 cents on the dollar
· Asian American, Native Hawaiian, and Pacific Islander Women's Equal Pay Day — May 3, 2022 — 75 cents on the dollar
· Black Women's Equal Pay Day — September 21, 2022 — 58 cents on the dollar
· Native Women's Equal Pay Day — November 30, 2022 —50 cents on the dollar
· Latina Equal Pay Day — December 8, 2022 — 54 cents on the dollar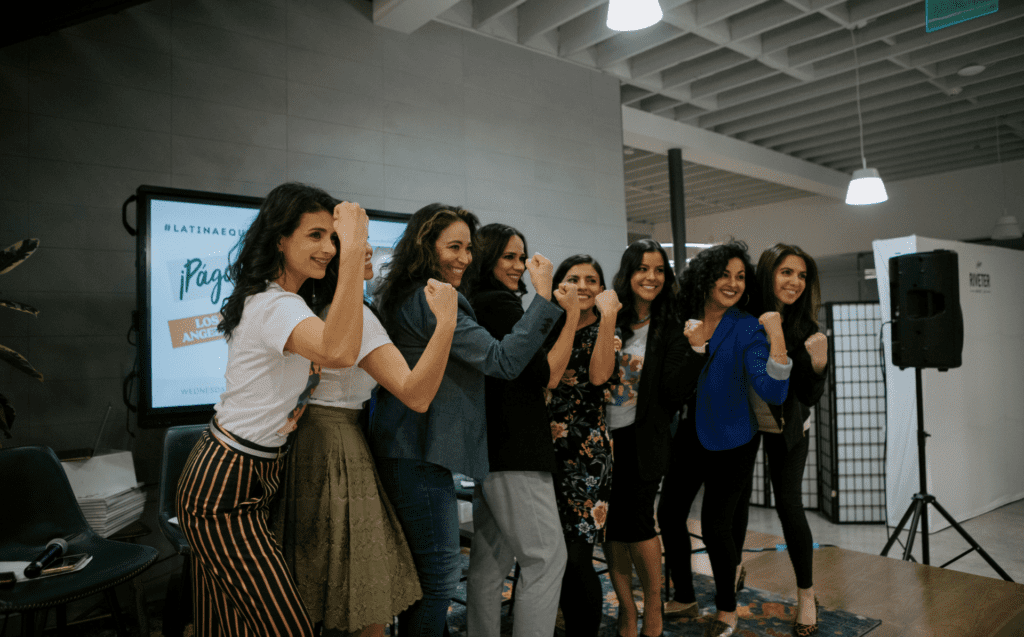 Why is LEPD on December 8th this year when it was on October 21st last year?
This year, Latina Equal Pay Day got pushed to December 8th because the median income for Latinas dropped to a paltry 54 cents for every dollar paid to a white, non-Hispanic man. We literally could not afford to make less and yet, here we are making less.
To put it in perspective, given the current pay gap, Latinas will have to work until they are 90 years old in order to make what a white, non-Hispanic man will make by the age of 60. If we don't do something about this now, many of us will go to our graves broke, tired, and without ever having earned as much as a 60-year-old white man enjoying his retirement in socks and sandals. Retirement? Not in our lifetimes.
How is systemic, wide-spread pay inequity even possible, justifiable or legal?
Imagine walking into a restaurant while being Latina and ordering the same item off the menu as the white, non-Hispanic guy next to you. When your orders arrive, he gets a full plate of food, and you get half as much food but are expected to pay just as much as he's paying. Or you both get the same amount of food, but he gets to pay half as much as you do. Everyone would call foul on that restaurant and the establishment would not survive, much less thrive.
And yet, that's pretty much what's happening in real life. Latinas have to work twice as long to pay for every single expense in our lives. If the wage gap isn't eliminated, then we should be getting a Latina discount on food, rent, and every dang thing to make things equitable. You know that ain't gonna happen.
So, what do we do to bring attention to the issue?
We can scream ¡Págame! at the top of our lungs, but since it's not practical to walk around screaming all the time, may we suggest purchasing the 2022 ¡PÁGAME! tee we created in partnership with @karla.and.co?


This stylish and meaningful tee not only helps raise awareness by being a great conversation starter, it supports efforts being made to close the pay gap. Profits from the ¡PÁGAME! t-shirt will be donated to @haceonline, The Hispanic Alliance for Career Enhancement, a national nonprofit dedicated to the employment, development, and advancement of current and aspiring Latina/e professionals.
Así que head on over to Karla and Co. to grab your t-shirt ahorita mismo, so that you can join our collective online ¡Págame! grito on #LatinaEqualPayDay 12/8.
Wear your shirt on December 6th as well for our 'Latinas Own The Table' event in partnership with Indeed, where we'll discuss and take action on ending the pay disparity that affects 27.9 million mujeres in the U.S. alone.
And remember, until Latinas have equal pay, pay equity will not exist. Workers cannot be equal until the most devalued members of our workforce are equal.
---