Marketing your small business on Facebook Marketplace is so 2019. Tap into a directory made for Latines, by Latines.
Amiga, your business deserves the spotlight and support from the community you had in mind when you initially created your business. We're excited to introduce the new and improved #WeAllGrow Small Business Directory created by us, for us just in time for Latine Hispanic Heritage Month. With the #WeAllGrow Small Business Directory, we aim to see our community's power and influence multiply by bridging the gap between businesses and their intended audience.
Since 2020, we have created our directory to help small businesses in our comunidad thrive in times of hardship. In 2022, we have elevated and amplified our directory to serve you and the community at a new level and celebrate the Latine-owned businesses representing our comunidad with pride. Plus, with Latine buying power rapidly rising, we are the ones fueling the economy within the U.S., so who better to invest in than our own gente?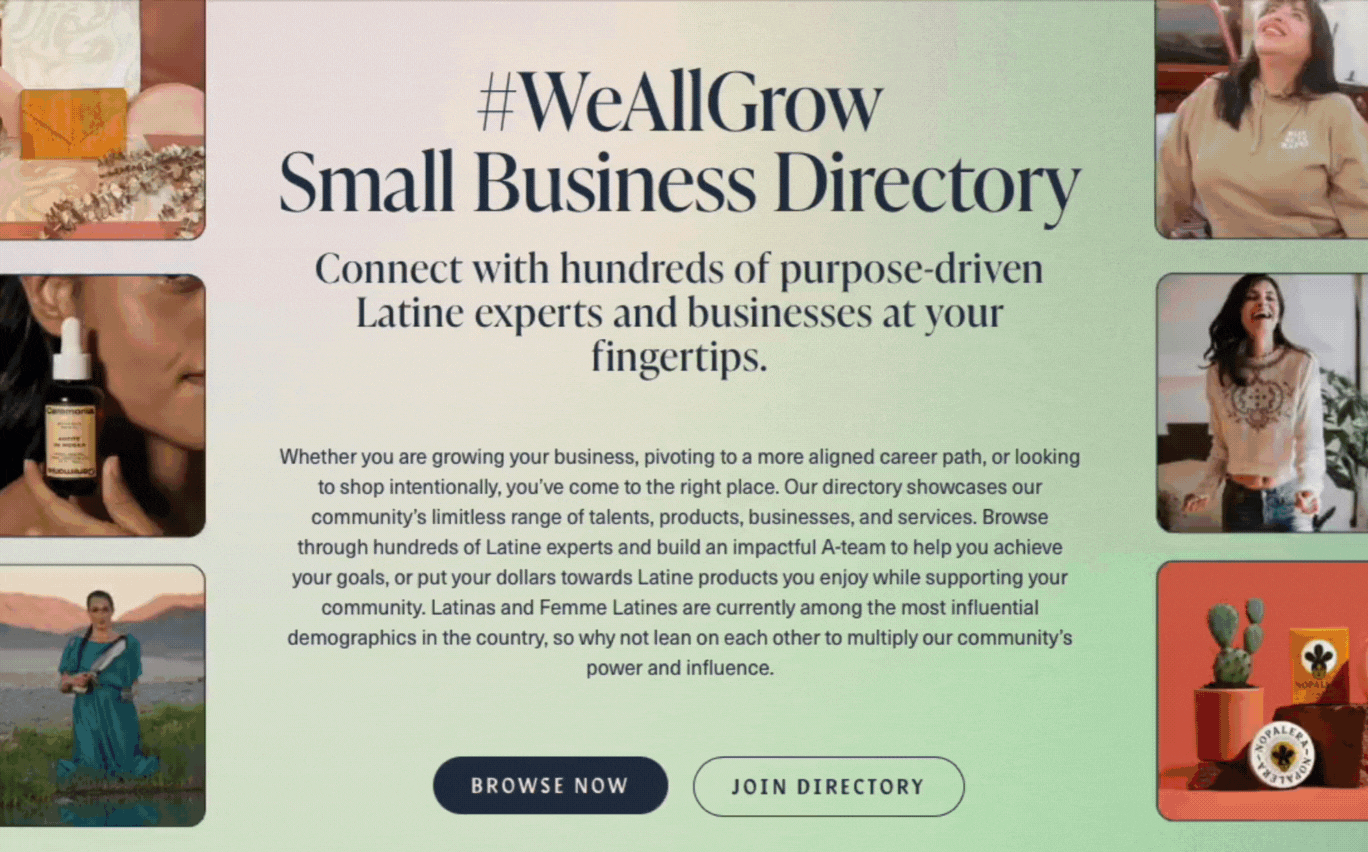 A look into the #WeAllGrow Small Business Directory
"[Latine] buying power has grown substantially over the last 30 years, from $213 billion in 1990 to $1.9 trillion in 2020," said the University of Georgia in a 2021 report on the diversity of consumer power in the U.S.," [Latine] buying power accounted for 11.1% of U.S. buying power in 2020, up from only 5% in 1990."
With 400 businesses in our directory, we have made it our mission to feature all the businesses within our #WeAllGrow network, allowing the community to select which businesses to support based on product, service, or non-profit. You can also choose from Afro-Latine-owned, Indigenous-owned, or LGBTQIA+-owned businesses. No matter where your business lands on the spectrum, the #WeAllGrow Small Business Directory is made for you to connect with a new customer or client that belongs to a community eager to support their gente.
"As I'm rebranding, I wanted to hire an all-Latina team to help me build my website. [Via the #WeAllGrow Directory], I found Marissa @mycopycrush, a Latina Copywriter," says illustrator Sandra Lucia, formerly known as Fearless Yaya. "She was an honor to work with and understood my vision perfectly. I highly recommend @mycopycrush and #WeAllGrow directory."
It's critical that we not only support Latine-owned businesses during Latine Hispanic Heritage Month but also support them year-round so we can amplify local, nationwide, and global businesses that put us on the map.

"#WeAllGrow has been instrumental to our small business growth. Through #WeAllGrow, we have had the opportunity to network with other entrepreneurs and gain a wider social media presence," said Montebello-based Cafe Santo. "As a recipient of the Latina Food Jefas Grant through #WeAllGrow, helped us achieve one of our biggest milestones: opening up our first brick and mortar. Their support for Latina entrepreneurs has been invaluable."
And as Cafe Santo mentioned, this is not just a marketplace to shop – it's a place to grow your comunidad.
"Es un honor formar parte de nuestra comunidad especialmente como emprendedora," says Joanis Duran, founder of Kalani & Wolf. "Our community lifts each other up when we open doors for one another. Thanks to WeAllGrow Latina, we feel heard, seen, and validated. Elevating the Latinx/a/e entrepreneur voices, products, and services on their platform allows us to showcase why we went into business with consumers who shop only from BIPOC businesses and connect with like-minded people to collaborate on projects."
Whether you're growing your business, pivoting to a more aligned career path, looking to shop intentionally, or looking to do some research on what brands to support this Latine Hispanic Heritage Month, you've come to the right place. Browse through hundreds of Latine experts and build an impactful A-team to help you achieve your goals, or put your dollars towards Latine products you enjoy while supporting your community. Our Amigas are looking to collaborate and invest in Latine-owned businesses, services, and entrepreneurs and continue to grow our economy.
So what are you waiting for, amiga? Join the #WeAllGrow Small Business Directory and get support from our own comunidad!