APPLICATIONS ARE CLOSED.
#WeAllGrow Latina Makers Market
Presented by Capital One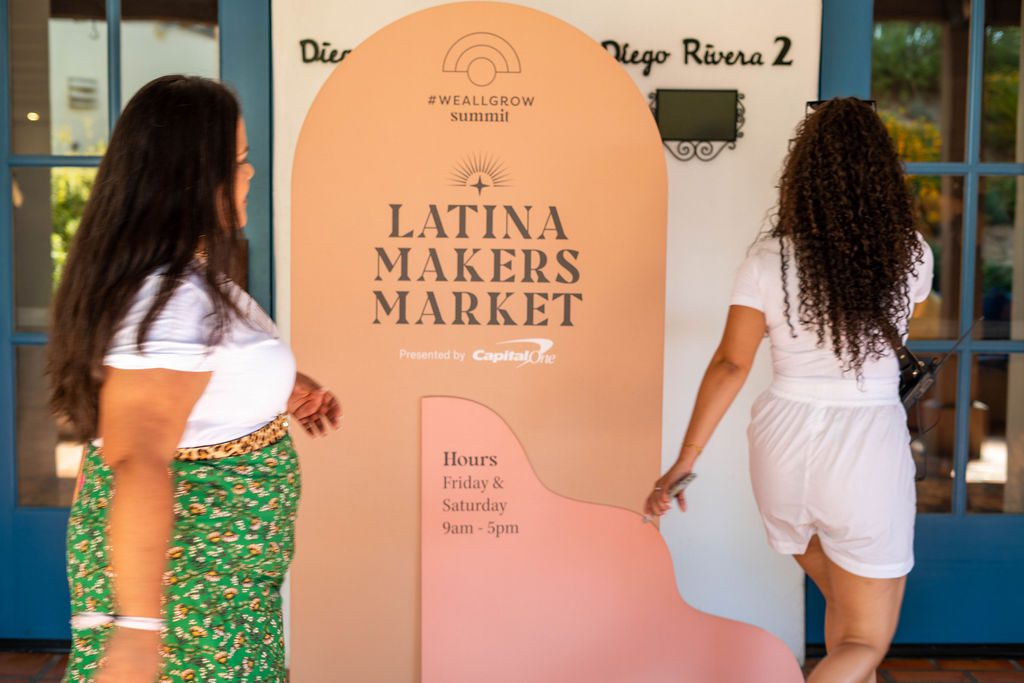 Applications for the 2023 #WeAllGrow Latina Makers Market™, presented by Capital One, are now closed. 
The Latine community is an undeniable catalyst for our nation's economic progress. To amplify the entrepreneurial surge within our community, Latina Makers Market will be part of our inaugural #WeAllGrow Weekend Fest to honor and uplift Latina entrepreneurs. This two day pop up experience provides a stage for visionary jefas to showcase their ventures and interact with over 600+ Weekend Fest attendees. 
Don't miss being part of this unique experience!
We are so excited to partner with Capital One for a second consecutive year as we continue to fulfill our mission of empowering and uplifting the Latine community. 
Nurture your business  |  Thrive with ease  |  Drive your founder vision forward
We are no longer accepting applications. Applications were due by 11:59 PM PT on Thursday, July 13th, 2023.
Only 20 vending spaces will be available, placing a greater focus on our makers!
Join us as we embrace the spirit of Latina entrepreneurship and create lasting memories and meaningful connections together.
---
LMM MAKER BENEFITS:
SHOWCASE YOUR PRODUCTS
You will receive a gorgeous branded turnkey vending space with custom logo signage ready for you to beautifully and easily display your work and products.
TELL YOUR STORY
This is a unique opportunity to showcase yourself and your business face-to-face and tell your story to a community that wants to support you and see you grow! 
BOOST BRAND VISIBILITY
Increase exposure of your business not only in person but online with:
A prominent business profile introduction and link to your site in the 2023 Latina Makers Market vendors announcement that will live on weallgrowlatina.com
A key feature amplified to a network of over 36K+ email subscribers through a LMM dedicated email blast.
NETWORK WITH EXCLUSIVE ATTENDEES: 
Take advantage of the special networking, mentorship, and PR opportunities.
CREATE A LASTING IMPRESSION
Seize the opportunity to connect and sell to the #WeAllGrow Weekend Fest 2023 attendees including influencers, investors, sponsors, agencies, media and celebrities attending (over 600 attendees expected). 
ATTEND #WEALLGROW WEEKEND FEST 2023
Receive one full access ticket for the #WeAllGrow Weekend Fest 2023 (a $999 value) to join us in October. Two thoughtfully curated days inviting you to elevate your mindset, align with the path of your vision, ignite healing, activate soul-centered entrepreneurship, have a blast, and meet your new amiga business bestie! 
A UNIQUE VALUE JUST FOR OUR COMMUNITY!
These incredible and unique benefits are valued at a $5,000+ package but will be available to the selected makers for much, much less with a higher return on investment for you and your business.
Ready to activate your brand's growth?
We invite you to be a part of this journey, celebrating the spirit of 'Thriving with Ease' as we unite in a shared commitment to nurturing, empowering, and embracing the incredible potential that lies within the Latine entrepreneurial sphere.
We are no longer accepting applications. Applications were due by 11:59 PM PT on Thursday, July 13th, 2023.
For more details, visit the #WeAllGrow Latina Makers Market FAQ here, and sign-up to our newsletter to stay up to date with more #WeAllGrow news and Weekend Fest updates.
---
Past Makers Testimonials: 
"I can say without a doubt that participating in the Latina Makers Market has changed the trajectory of my business. I've met the most incredibly supportive and uplifting women. I've collaborated with them and it's opened up the path for other opportunities I couldn't have possibly generated on my own. Before the conference, I'd been sitting on the wholesale fence for so long. Afterward, I felt this boost of confidence so I decided to just go after it. Well, my products are now in 21 stores!"
– Jenn Velasquez, Founder of Almadé
"Being a part of the Latina Makers Market was an experience that brought on amazing opportunities for my business. It was surreal to be surrounded by so much support and by so many amazing Latina jefas making moves."
– Jen Zeano, Founder of JZD
"Being part of the Latina's Maker Market was such a growth opportunity for my brand and an incredible personal experience. Along with getting our products in front of so many amigas who may have not found us otherwise, I was able to make some great connections with other chingonas paving the way. I'm so glad I applied!"
– Ana Nuñez, Founder of Vida Bars
"Participating in the Latina Makers Market exceeded all my expectations. The exposure, love, and support I received were abundant, creating a remarkable experience. It not only opened doors to meaningful relationships but also boosted my visibility and sales. The market was specially branded for each business. It was organized, clean and diverse with a vibrant atmosphere that attracted a diverse range of customers who were genuinely interested in supporting local businesses. The connections I made with fellow entrepreneurs were invaluable. I'm grateful for the genuine interest and appreciation shown by the community. I wholeheartedly recommend participating in the market to any entrepreneur looking to showcase their products, make meaningful connections, and experience the joy of being supported by an engaged audience."
– Cindy Castro, Founder of CINDY CASTRO New York
Posh Palma Styles' involvement in the 2022 Latina Makers Market was nothing short of magical. Our experience was filled with genuine connections, meeting inspiring Latina women that resulted in the formation of meaningful relationships and valuable partnerships, all thanks to the exceptional support of the #WeAllGrow team. As Dominican women, we were so proud of the representation of Latinas at the event. Witnessing the celebration of our culture and creativity was not only inspiring but also motivating for us on a personal and professional level. We highly recommend applying and attending this year's Latina Makers Market, it will be an unforgettable experience that will leave a lasting impact on your business or brand.
– Valerie Diaz and Gelsandra Guzman, Founders of Posh Palma Styles
Be part of this year's exclusive cohort by investing in your business's growth and expanding your presence. Connect with brands that value your power and fuel your next steps with other Latina founders changing the game.
We are no longer accepting applications. Applications were due by 11:59 PM PT on Thursday, July 13th, 2023.