We are at an important moment in time with the emergence of new technologies, and Latinas are poised to benefit greatly from these digital tools for their businesses. Driven to redefine success for our community and prioritize well-being, we partnered with Microsoft to conduct research that reveals the state of Latina entrepreneurship in the #WeAllGrow community – by Latinas, for Latinas. During our virtual event, "Latina Entrepreneurship: Breaking Barriers and Achieving Más with Ease", we revealed the findings of our first-ever Latina Entrepreneur Community Pulse report, gathering data and vulnerable stories from more than 300 amigas.
Latinas bring a unique and powerful perspective to entrepreneurship that has helped catapult them to become the fastest-growing group in the U.S., and our businesses are not one size fits all. Limited research exists around understanding Latina business owners' experiences and technology's impact on their operations. The one-of-a-kind report led by Dr. Gina Vanegas unveils Latina entrepreneurs' needs, their honest experiences, and the nuances of being a Latina business owner. To continue to thrive and become the leaders we're destined to be, we need to lead the paradigm shift to disengage from hustle culture. We know we can achieve more by prioritizing our well-being because the world around us will be alright if we're alright. And through the conscious and deliberate use of technology, we know Latinas will continue moving mountains while still protecting their mental health and well-being.
"When we more accurately reflect the inherent strength and resilience of underrepresented groups, it creates equity and promotes the engagement of such groups in quality programs that increase social capital."

– Dr. Gina Vanegas
We've highlighted some of the key findings unveiled within the report. If you want to sink your teeth into the full report and explore, you can download it here.
Latina Entrepreneurs create businesses out of a need for representation, inclusion, and a sense of community in their industry.
Latinas want to see themselves represented in the businesses and services that they consume. Being the resourceful and resilient mujeres that Latinas are, they have taken power back into their hands and chosen to create their own tables by building their own businesses. Despite the barriers they face to blazing new paths, the survey data reflects that Latinas have an unmatched sense of resilience and determination that they have harnessed as their superpower. Fueled by optimism, almost all respondents (94%) reported feeling confident in their business' future success and positive that it will grow over time.
Latina entrepreneurs report having many responsibilities outside of running a business.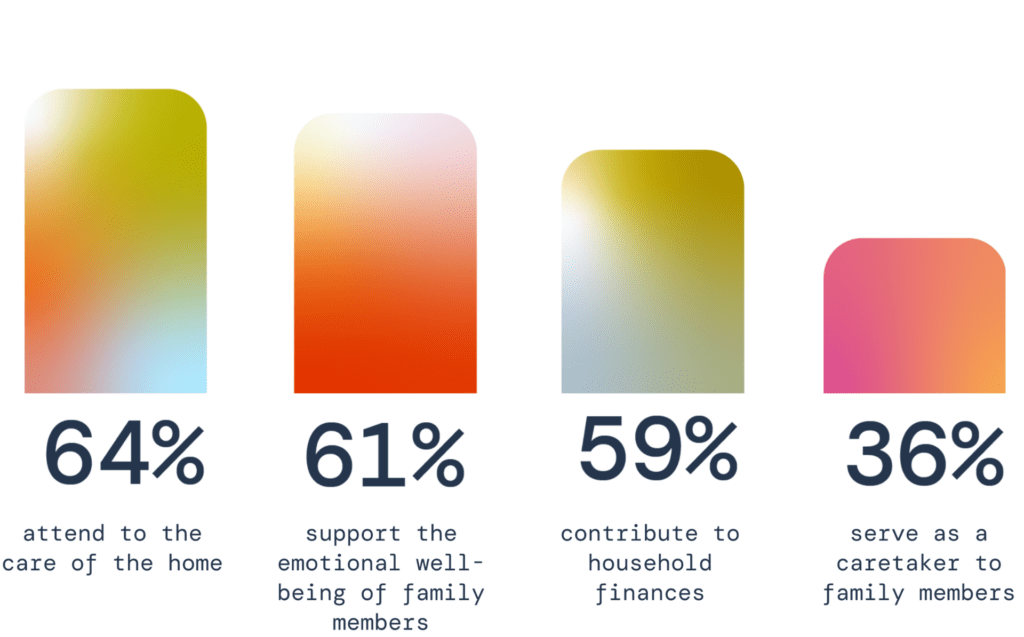 Beyond leading businesses, many Latinas are nurturers and caretakers, impacting their ability to run their businesses. Oftentimes the pressure to juggle multiple responsibilities can create a sense of isolation because many Latina entrepreneurs are the first in their families to be business owners. That's why it's important that we seek a sense of connection through communities such as the #WeAllGrow community to walk alongside each other in the entrepreneurial journey.
Latina entrepreneurs rely on technology as their primary source of support.
The report uncovered that utilizing technology was a major source of support to run their businesses. In fact, 40% of Latinas are actually using AI to supplement their business operations. The report revealed that various tech tools are utilized for finances or productivity (leaving the mundane and tedious tasks to technology).
"We [Latinos] don't give up; we are always going to keep doing whatever it is that we need to do to survive because that's what we do.That's something that's always very present for me."

–Latina Entrepreneur Community Pulse Report participant
Entrepreneurial Tips
Leverage AI
[With AI], I can whip up decks in less than a day, and they're comprehensive. We use it to create copy, designs and post-meeting notes so that we're all present on calls. There are AI tools that are so empathetic, and it feels like I'm talking to a friend. Sometimes it gives really good advice.
– Brittany Chavez, Founder and CEO of Shop Latinx and Our Paradiso
Resilience is your superpower.
"Don't let anyone tell you what your barriers are. We live in a world and a culture where everybody has an opinion on what you should and shouldn't be successful at. And you know why Latinas are resilient? It's because we use barriers as leverage, right? That's what we found in the findings. When people try to go around obstacles or find the path of least resistance, we find a way to use it to our advantage."
– Brittany Valdes, Program Manager at Microsoft & Founder of The Mom Economy
Choose a new way.
"[I found a way to care for myself while running a business when] I started with allowing myself to look around me and understanding that I can do things differently. From the way that I was educated, to the way my previous generations work, the way they raised their families. And by doing so, I created space in my life to have a spiritual agenda as strong as my work agenda. Because one without the other doesn't really work."
– Valeria Hinojosa, Conscious Entrepreneur Creative & Writer
---