Last weekend LBC and Sprint hosted an intimate all-day event with Los Angeles area Latina bloggers with the only motive of connecting and spending an amazing day of bonding over new experiences. The 15 invited bloggers all got the chance to meet the Director of Hispanic Marketing for Sprint and have real life conversations during the two hour drive to and from Los Angeles to the quaint town of Los Olivos in the Santa Ynez Valley of California, famous for being the location where the movie "Sideways" was shot.
Our first stop was the Fess Parker Winery where we got a tour of the grounds and a private wine tasting in their Wine Club Lounge. We all got a kick out of learning the winery was owned by the same man Disney made famous as Davy Crockett in two movies in the 1950´s. We also bonded over Viogniers, Syrahs, and some of the best wines the area has to offer.
The wine tasting was followed by a very special picnic lunch catered by Latina food bloggers extraordinaire--Nicole Presley of PresleysPantry.com and Ericka Sánchez of NibblesandFeasts.com. The bagged lunch included these choco-mint Christmas cookies and these peanut butter and jam cookies. Yes. It was a feast of great food, wine and amazing friends.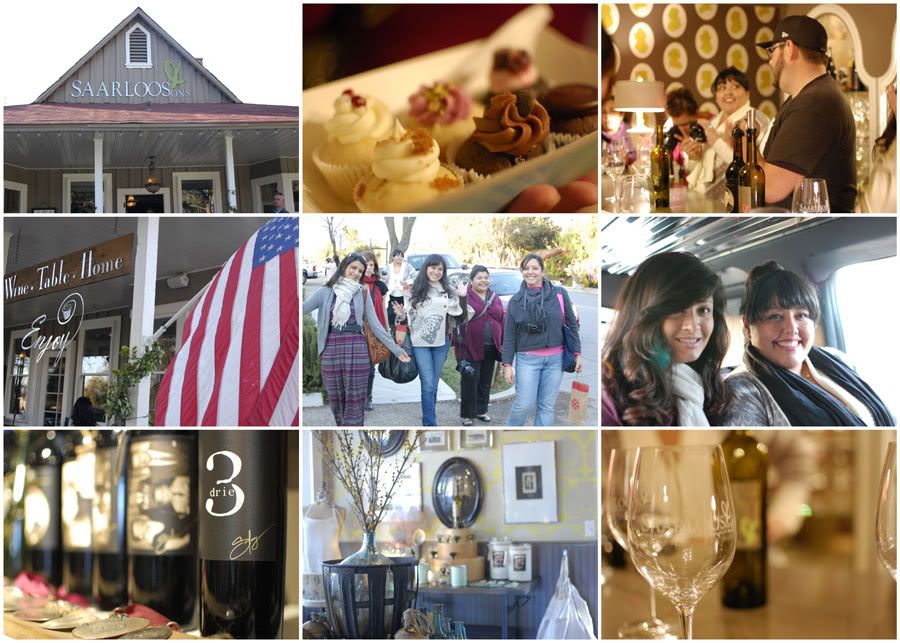 Then we got back in the limo to head out to Saarlos and Sons, the most unpretentious wine tasting room you´ll find in the area. I mean, who else can dare to pair up wine with cupcakes?!
We had the cool back room all to ourselves, where we delighted on cupcakes from Enjoy Cupcakes, rocking music, divine wine and funny stories from Keith, one of the Sons.
After some free time exploring the town of Los Olivos on our own, we drove back to Los Angeles and relished in the memories and bonds formed on a beautiful California day while playing some games the fabulous Monique Frausto of ClickLatina.com had put together for us to get a chance to win some Boost Mobile phones and Sprint gift cards.
One interesting note to observe is that the only ones in the group who were able to stay connected the whole time, without the need for Wifi, were those with a Sprint phone. Kid you not.
For more beautiful pictures, taken by Rachel Matos of TheArtMuse.net, head on over to our Facebook page.
The tweets on the #SprintConnects hashtag also speak for themselves.
And a big heartfelt ¡Gracias! to Sprint for such an amazing gift and for truly getting the meaning of Connection.